Jurassic World: Dominion Dominates Fandom Wikis - The Loop
Play Sound
Vera Cruz

,

New Spain

This port may not be conquered
Nation:

Spain

Resources:
 
Minimap

Spanish starting city. All Spanish tutorials begin here and the 'Map of Destiny' series of missions begins here with A Man of Wealth and Taste.
History
[
]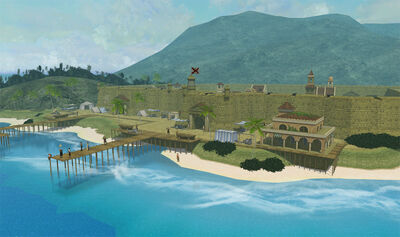 The sea port of Veracruz was founded by Hernán Cortés, who first landed there in 1519 at the start of his quest to conquer Mexico for Spain. It was named 'La Villa Rica de la Vera Cruz' (The Rich Town of the True Cross; the name is also occasionally given as La Rica Villa de la Vera Cruz).
Veracruz was New Spain's main port, where silver and wares from the Manila Galleons transported overland from Acapulco were loaded onto the Spanish treasure fleets for shipment to Spain. The port was harassed by hostile powers and by pirates, who succeeded in pillaging the city in 1653 and in 1712. In response to such dangers the large fortress of San Juan de Ulúa was built on an island in the harbour, beginning in 1565 and substantially expanded several times later.
Map and Locations
[
]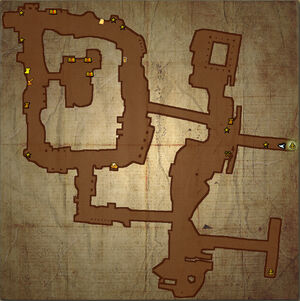 Vera Cruz is Spains starting port, therefore new players will be greeted right at the docks by Rosalinda Diaz and get their first missions. Other places to look for missions are the Tavern and the Magistrate's Office.
Important NPCs
[
]
Available Missions
[
]
Missions available from "Knuckles" Niedecker
| Level | Mission | Reward | Prerequisite | Nation |
| --- | --- | --- | --- | --- |
Missions available from "Stumpy Joe" Childs
| Level | Mission | Reward | Prerequisite | Nation |
| --- | --- | --- | --- | --- |
Missions available from "Stumpy" Pepys
| Level | Mission | Reward | Prerequisite | Nation |
| --- | --- | --- | --- | --- |
Missions available from Aaron Whyman
| Level | Mission | Reward | Prerequisite | Nation |
| --- | --- | --- | --- | --- |
Missions available from Abasi Demers
| Level | Mission | Reward | Prerequisite | Nation |
| --- | --- | --- | --- | --- |
Missions available from Abdul-Hakim
| Level | Mission | Reward | Prerequisite | Nation |
| --- | --- | --- | --- | --- |
Missions available from Abegail Ospital
| Level | Mission | Reward | Prerequisite | Nation |
| --- | --- | --- | --- | --- |
Missions available from Absalom Fairweather
| Level | Mission | Reward | Prerequisite | Nation |
| --- | --- | --- | --- | --- |
Missions available from Achille Flibotte
| Level | Mission | Reward | Prerequisite | Nation |
| --- | --- | --- | --- | --- |
Missions available from Adelaide Clevinger
| Level | Mission | Reward | Prerequisite | Nation |
| --- | --- | --- | --- | --- |
Missions available from Adora Fausto
| Level | Mission | Reward | Prerequisite | Nation |
| --- | --- | --- | --- | --- |
Missions available from Adriana Carrasco
| Level | Mission | Reward | Prerequisite | Nation |
| --- | --- | --- | --- | --- |
Missions available from Adrien Darcy
| Level | Mission | Reward | Prerequisite | Nation |
| --- | --- | --- | --- | --- |
Missions available from Adrien Hammersley
| Level | Mission | Reward | Prerequisite | Nation |
| --- | --- | --- | --- | --- |
Missions available from Adán Herrera
| Level | Mission | Reward | Prerequisite | Nation |
| --- | --- | --- | --- | --- |
Missions available from Alain Laframboise
| Level | Mission | Reward | Prerequisite | Nation |
| --- | --- | --- | --- | --- |
Missions available from Alan Tomkins
| Level | Mission | Reward | Prerequisite | Nation |
| --- | --- | --- | --- | --- |
Missions available from Alberto Alva
| Level | Mission | Reward | Prerequisite | Nation |
| --- | --- | --- | --- | --- |
Missions available from Alberto Cadenas
| Level | Mission | Reward | Prerequisite | Nation |
| --- | --- | --- | --- | --- |
Missions available from Alberto Lockett
| Level | Mission | Reward | Prerequisite | Nation |
| --- | --- | --- | --- | --- |
Missions available from Alberto Ortelano
| Level | Mission | Reward | Prerequisite | Nation |
| --- | --- | --- | --- | --- |
Missions available from Alexander Alekhine
| Level | Mission | Reward | Prerequisite | Nation |
| --- | --- | --- | --- | --- |
Missions available from Alf le Huguenot
| Level | Mission | Reward | Prerequisite | Nation |
| --- | --- | --- | --- | --- |
Missions available from Alfonse DeGenaro
| Level | Mission | Reward | Prerequisite | Nation |
| --- | --- | --- | --- | --- |
Missions available from Alfonso Charbonnier
| Level | Mission | Reward | Prerequisite | Nation |
| --- | --- | --- | --- | --- |
Missions available from Algernon Agnew
| Level | Mission | Reward | Prerequisite | Nation |
| --- | --- | --- | --- | --- |
Missions available from Aliah
| Level | Mission | Reward | Prerequisite | Nation |
| --- | --- | --- | --- | --- |
Missions available from Alice Jerominus
| Level | Mission | Reward | Prerequisite | Nation |
| --- | --- | --- | --- | --- |
Missions available from Alicia Laguna
| Level | Mission | Reward | Prerequisite | Nation |
| --- | --- | --- | --- | --- |
Missions available from Aloisius Stern
| Level | Mission | Reward | Prerequisite | Nation |
| --- | --- | --- | --- | --- |
Missions available from Alonsico Atienza
| Level | Mission | Reward | Prerequisite | Nation |
| --- | --- | --- | --- | --- |
Missions available from Alonsico Molleda
| Level | Mission | Reward | Prerequisite | Nation |
| --- | --- | --- | --- | --- |
Missions available from Alonsico Nieves
| Level | Mission | Reward | Prerequisite | Nation |
| --- | --- | --- | --- | --- |
Missions available from Alonsico Padilla
| Level | Mission | Reward | Prerequisite | Nation |
| --- | --- | --- | --- | --- |
Missions available from Alphonse Mercado
| Level | Mission | Reward | Prerequisite | Nation |
| --- | --- | --- | --- | --- |
Missions available from Alsonso Aguilar
| Level | Mission | Reward | Prerequisite | Nation |
| --- | --- | --- | --- | --- |
Missions available from Alvaro Cocon
| Level | Mission | Reward | Prerequisite | Nation |
| --- | --- | --- | --- | --- |
Missions available from Alvin Humphreys
| Level | Mission | Reward | Prerequisite | Nation |
| --- | --- | --- | --- | --- |
Missions available from Alvin Woods
| Level | Mission | Reward | Prerequisite | Nation |
| --- | --- | --- | --- | --- |
Missions available from Amadeus d'Amostoy
| Level | Mission | Reward | Prerequisite | Nation |
| --- | --- | --- | --- | --- |
Missions available from Amando Henriquez
| Level | Mission | Reward | Prerequisite | Nation |
| --- | --- | --- | --- | --- |
Missions available from Ambre Suzor
| Level | Mission | Reward | Prerequisite | Nation |
| --- | --- | --- | --- | --- |
Missions available from Ambrose Brassington
| Level | Mission | Reward | Prerequisite | Nation |
| --- | --- | --- | --- | --- |
Missions available from Ambrose Primley
| Level | Mission | Reward | Prerequisite | Nation |
| --- | --- | --- | --- | --- |
Missions available from Anastas Balines
| Level | Mission | Reward | Prerequisite | Nation |
| --- | --- | --- | --- | --- |
Missions available from Anatole Decoigne
| Level | Mission | Reward | Prerequisite | Nation |
| --- | --- | --- | --- | --- |
Missions available from André Faucheux
| Level | Mission | Reward | Prerequisite | Nation |
| --- | --- | --- | --- | --- |
Missions available from Andy Sordelier
| Level | Mission | Reward | Prerequisite | Nation |
| --- | --- | --- | --- | --- |
Missions available from Angelica Ryan
| Level | Mission | Reward | Prerequisite | Nation |
| --- | --- | --- | --- | --- |
Missions available from Angus MacKinnon
| Level | Mission | Reward | Prerequisite | Nation |
| --- | --- | --- | --- | --- |