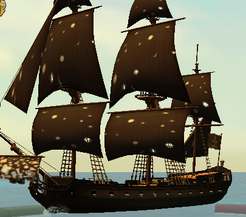 Matthew CrescentSilver
Edit
An Syrian born Ottoman National. After his coastal residence and Trading Port was Raided by a Rogue Spanish Naval Division, he traveled to Algiers and took up Piracy as Navigator for an Xebec eventually taking command while the Captain was killed in scrape with a French Lineship. The Xebec النسر الفضي -Eagle- under Crescentsilver's orders began hunting remnants of the Spanish/Italian Vessels in the Mediterranean. Eventually this resulted in the Failed Attack of Tuniz to which Crescentsilver Retaliated with the Offense of Barcelona resulting in the port being raided, and the Destruction of the Rogue Spanish Naval Force. Crescentsilver was given orders to report to Istanbul, where the Sultan declared him a National Hero, and Privateering Militant Force to Serve beside the Ottoman Navy.
Barbary Korsairs (Guild/Society)
Edit
An Ottoman Themed society under my leadership in POTBS, visit this link for more details. [ http://www.burningsea.com/forums/showthread.php?t=81341]
About me Personally
Edit
I am Slightly crazy... -completely insane, however the world's most famous people were crazy, if not Borderline Insane...
I am a LEGO Fan, have been for most of my Life, both collector wise and as a hobby.
I am Obsessed with History, or much more Specifically: Ottoman History, 17/18/19th Century Maritime History, History Regarding the Great world Empires; The Mongol Empire, Mogul Empire, German Empire Ect.
I play a large Assortment of PC Games, MMOs, RPGs, Offline Games, and so on.
My Youtube Channel [1]
Community content is available under
CC-BY-SA
unless otherwise noted.