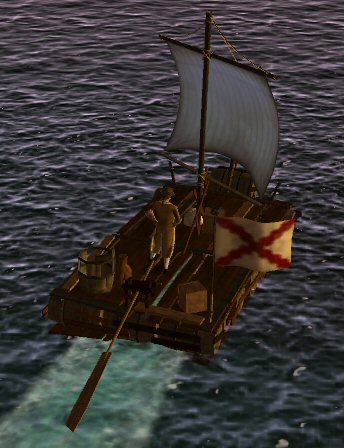 I am actively sailing & mentoring on TestBed as an Officer of Armada Society.


I have been plundering the PotBS Caribbean since September as part of Closed Beta invitation.
I was given my Key during the SOE Fanfaire held in Las Vegas.

While Paco has managed to respawn after each subsequent server merge, there was tardiness on my part during when I was not the first player to have choosen Paco when merging onto Antigua.
I have since spawned other choices such as French and Pirate.
During Stress Test II, I became British Privateer Charles Dansforth, but I have no interest of ever being English on the 'live' servers.


Where can you find ClericTaven?
Edit
You can as often find me on [1] and [Skype:ClericTaven|SKYPE] as well playing [2].
Occasionally stopping by IRC #burningsea channel Community Chat.


The Spanish Los Diablos Juegan on Antigua.
Freetrader Pacos Sanchez on Antigua & Paco Sanchez in Armada on TestBed.
Naval Officer Rico Sanchez on Antigua & in Armada on TestBed.
French Freetrader Scarlet Violet on TestBed.
French Naval Officer André Zèbre - on Roberts& on TestBed.


---
PieRat Cadence Hart aka HuneyPie in Strange Brew on TestBed.
Privateer Roxanne Rodriguez in Armada on TestBed.

Community content is available under
CC-BY-SA
unless otherwise noted.