Tiger's Whisker
Cannot be traded
Your foe will be stried in blood if they fail to parry this deadly rapier. The hilt is weighted for agility and for quick flicks of the wrist. 20% change when attacking to reduce opponent's guard regen by 1/s for and their damage reduction by 7% for 10 seconds.
Rarity: Unique
Fighting School: Fencing
Location: Main Hand


Minimum Melee Damage: +43
Maximum Melee Damage: +53
Initiative regen +0.5
Melee Accuracy +9
Requirements:
You must be level 50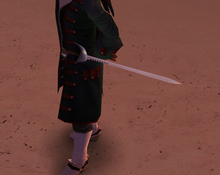 Trophy fishing reward. See Angling for more info.
Interesting fact: When you equip it on yourself, you can hear the tiger growling.