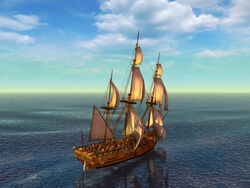 A sloop-of-war is an unrated ship of about 16 guns used for quick actions and running small amounts of cargo. Quick and tough to catch, they are prefferred by Pirates and Privateers for their speed and maneuverability compared to traditional square-rigged navy and merchant ships. Oddly enough, a sloop-of-war does not neccessarily have to be a sloop - it is merely a classifaction used by the British Royal Navy to rate ships of 14 or 18 guns commanded by Lieutenants instead of Post-Captains.
There are many examples of a sloop-of-war (few of which are, technically speaking, sloops) in Pirates of the Burning Sea, including the: 'Algiers' Refit Polacre, 'Corsair' Xebec, 'Cruizer' Snow, 'Curieuse' Snow, 'Dromedary' Indiaman, 'Fallen' Refit Snow, 'Hermes' Packet-Boat, 'Lexington' Brig, 'Locust' Corvette, 'Mystique' Polacre, 'Nemea' Sloop-of-war and 'Santiago' Galleon.
This information is provided by the update that PotBS Wikia is undergoing, by Captain Vuur.

Community content is available under
CC-BY-SA
unless otherwise noted.