Mission


Mixed Mission
This mission involves both Avcom and Ship combat at various stages.

Solo Mission
This mission may only be completed solo.
This mission was created as a Seasonal PotBS Anniversary release event.
A strange man named Gordon Fritzsimmons has given you a tip that you'll be able to get into a British Royal Society celebration if you show up to an unremarkable location he's marked on your map. He seemed to be legitimate.
Mission Notes
This is a two-phase mission.
The first part, is a Race in a Jury-Rigged Barrel with a single Mast Brace, Rough repair. You must sail through a maze of shipwrecks towards the Finish line.
The second part is attending a Winner's party, where you must mingle and entertain five other guests:
Barnaby Swenson offers you three riddles:
"If charges are dropped, I can't be released. Show me some game, and I'll give you a feast. Show me a man, and I'll show you a war - though never will I understand what for." spoiler

A round.


- A prisoner; a round; a chess piece; a soldier; none of the above.
The blacksmith claims to fold a base of five layers of metal, at a rate of three folds an hour, and works for five hours per blade. Each fold doubles the number of layers, so how many layers of steel does his smithing produce in each weapon? spoiler

163,840


- 150; 5,625; 163,840.
Which of the following were here before he Europeans arrived in the West Indies? spoiler

Pineapple


- Pineapple; Banana; Sugar cane.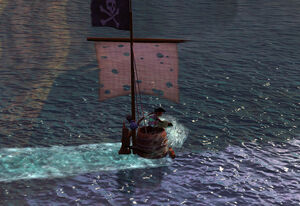 Cavalier Savant asks you to identify the correct way to throw a dagger:
Small, balanced dagger spoiler

Throw dagger by the blade.


Large, weighted dagger spoiler

Throw dagger by the hilt.


Dagger with hollowed hilt and curved blade spoiler

Put some English into the throw.


- Put some English into the throw
- Throw dagger by the blade
- Throw dagger by the hilt
The other three guests offer a "Dubloons" game, a bet on a rat race, and lastly search for clues about a secret room hiding something, perhaps a Treasure chest.
Titles reward may annually be different as well as gender worded.