Jurassic World: Dominion Dominates Fandom Wikis - The Loop
Play Sound
Minimap
History
[
]
Portobelo was founded in 1597 by Spanish explorer Francisco Velarde y Mercado. From the sixteenth to the eighteenth centuries it was an important silver-exporting port in New Granada on the Spanish Main and one of the ports on the route of the Spanish treasure fleets.
The city was also victim of one of Captain Henry Morgan's notorious adventures. In 1668, Morgan led a fleet of privateers and 450 men against Portobelo, which, in spite of its good fortifications, he captured and plundered for 14 days, stripping it of nearly all its wealth. This daring endeavor, although successful, also proved particularly brutal as it involved rape, torture, and murder on a grand scale.
On November 21, 1739, the port was again attacked and captured by a British fleet, commanded this time by Admiral Edward Vernon during the War of Jenkins' Ear. The British victory created an outburst of popular acclaim throughout the British Empire, and many streets and settlements in the British Isles and the Thirteen Colonies were named Portobello such as the Portobello Road in London.
Map and Locations
[
]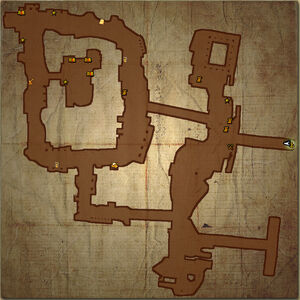 Currently Portobelo does not offer much to players except Spaniards. For those, there a quite a few missions - strange enough, all are level 15, and all give identical rewards. There are no special items from rewards to be found here. You'll find missions in the streets as well as in the Church, the Tavern, the Customs House and, of course, the Magistrate's Office.
Important NPCs
[
]
Available Missions
[
]
Missions available from "Knuckles" Niedecker
| Level | Mission | Reward | Prerequisite | Nation |
| --- | --- | --- | --- | --- |
Missions available from "Stumpy Joe" Childs
| Level | Mission | Reward | Prerequisite | Nation |
| --- | --- | --- | --- | --- |
Missions available from "Stumpy" Pepys
| Level | Mission | Reward | Prerequisite | Nation |
| --- | --- | --- | --- | --- |
Missions available from Aaron Whyman
| Level | Mission | Reward | Prerequisite | Nation |
| --- | --- | --- | --- | --- |
Missions available from Abasi Demers
| Level | Mission | Reward | Prerequisite | Nation |
| --- | --- | --- | --- | --- |
Missions available from Abdul-Hakim
| Level | Mission | Reward | Prerequisite | Nation |
| --- | --- | --- | --- | --- |
Missions available from Abegail Ospital
| Level | Mission | Reward | Prerequisite | Nation |
| --- | --- | --- | --- | --- |
Missions available from Absalom Fairweather
| Level | Mission | Reward | Prerequisite | Nation |
| --- | --- | --- | --- | --- |
Missions available from Achille Flibotte
| Level | Mission | Reward | Prerequisite | Nation |
| --- | --- | --- | --- | --- |
Missions available from Adelaide Clevinger
| Level | Mission | Reward | Prerequisite | Nation |
| --- | --- | --- | --- | --- |
Missions available from Adora Fausto
| Level | Mission | Reward | Prerequisite | Nation |
| --- | --- | --- | --- | --- |
Missions available from Adriana Carrasco
| Level | Mission | Reward | Prerequisite | Nation |
| --- | --- | --- | --- | --- |
Missions available from Adrien Darcy
| Level | Mission | Reward | Prerequisite | Nation |
| --- | --- | --- | --- | --- |
Missions available from Adrien Hammersley
| Level | Mission | Reward | Prerequisite | Nation |
| --- | --- | --- | --- | --- |
Missions available from Adán Herrera
| Level | Mission | Reward | Prerequisite | Nation |
| --- | --- | --- | --- | --- |
Missions available from Alain Laframboise
| Level | Mission | Reward | Prerequisite | Nation |
| --- | --- | --- | --- | --- |
Missions available from Alan Tomkins
| Level | Mission | Reward | Prerequisite | Nation |
| --- | --- | --- | --- | --- |
Missions available from Alberto Alva
| Level | Mission | Reward | Prerequisite | Nation |
| --- | --- | --- | --- | --- |
Missions available from Alberto Cadenas
| Level | Mission | Reward | Prerequisite | Nation |
| --- | --- | --- | --- | --- |
Missions available from Alberto Lockett
| Level | Mission | Reward | Prerequisite | Nation |
| --- | --- | --- | --- | --- |
Missions available from Alberto Ortelano
| Level | Mission | Reward | Prerequisite | Nation |
| --- | --- | --- | --- | --- |
Missions available from Alexander Alekhine
| Level | Mission | Reward | Prerequisite | Nation |
| --- | --- | --- | --- | --- |
Missions available from Alf le Huguenot
| Level | Mission | Reward | Prerequisite | Nation |
| --- | --- | --- | --- | --- |
Missions available from Alfonse DeGenaro
| Level | Mission | Reward | Prerequisite | Nation |
| --- | --- | --- | --- | --- |
Missions available from Alfonso Charbonnier
| Level | Mission | Reward | Prerequisite | Nation |
| --- | --- | --- | --- | --- |
Missions available from Algernon Agnew
| Level | Mission | Reward | Prerequisite | Nation |
| --- | --- | --- | --- | --- |
Missions available from Aliah
| Level | Mission | Reward | Prerequisite | Nation |
| --- | --- | --- | --- | --- |
Missions available from Alice Jerominus
| Level | Mission | Reward | Prerequisite | Nation |
| --- | --- | --- | --- | --- |
Missions available from Alicia Laguna
| Level | Mission | Reward | Prerequisite | Nation |
| --- | --- | --- | --- | --- |
Missions available from Aloisius Stern
| Level | Mission | Reward | Prerequisite | Nation |
| --- | --- | --- | --- | --- |
Missions available from Alonsico Atienza
| Level | Mission | Reward | Prerequisite | Nation |
| --- | --- | --- | --- | --- |
Missions available from Alonsico Molleda
| Level | Mission | Reward | Prerequisite | Nation |
| --- | --- | --- | --- | --- |
Missions available from Alonsico Nieves
| Level | Mission | Reward | Prerequisite | Nation |
| --- | --- | --- | --- | --- |
Missions available from Alonsico Padilla
| Level | Mission | Reward | Prerequisite | Nation |
| --- | --- | --- | --- | --- |
Missions available from Alphonse Mercado
| Level | Mission | Reward | Prerequisite | Nation |
| --- | --- | --- | --- | --- |
Missions available from Alsonso Aguilar
| Level | Mission | Reward | Prerequisite | Nation |
| --- | --- | --- | --- | --- |
Missions available from Alvaro Cocon
| Level | Mission | Reward | Prerequisite | Nation |
| --- | --- | --- | --- | --- |
Missions available from Alvin Humphreys
| Level | Mission | Reward | Prerequisite | Nation |
| --- | --- | --- | --- | --- |
Missions available from Alvin Woods
| Level | Mission | Reward | Prerequisite | Nation |
| --- | --- | --- | --- | --- |
Missions available from Amadeus d'Amostoy
| Level | Mission | Reward | Prerequisite | Nation |
| --- | --- | --- | --- | --- |
Missions available from Amando Henriquez
| Level | Mission | Reward | Prerequisite | Nation |
| --- | --- | --- | --- | --- |
Missions available from Ambre Suzor
| Level | Mission | Reward | Prerequisite | Nation |
| --- | --- | --- | --- | --- |
Missions available from Ambrose Brassington
| Level | Mission | Reward | Prerequisite | Nation |
| --- | --- | --- | --- | --- |
Missions available from Ambrose Primley
| Level | Mission | Reward | Prerequisite | Nation |
| --- | --- | --- | --- | --- |
Missions available from Anastas Balines
| Level | Mission | Reward | Prerequisite | Nation |
| --- | --- | --- | --- | --- |
Missions available from Anatole Decoigne
| Level | Mission | Reward | Prerequisite | Nation |
| --- | --- | --- | --- | --- |
Missions available from André Faucheux
| Level | Mission | Reward | Prerequisite | Nation |
| --- | --- | --- | --- | --- |
Missions available from Andy Sordelier
| Level | Mission | Reward | Prerequisite | Nation |
| --- | --- | --- | --- | --- |
Missions available from Angelica Ryan
| Level | Mission | Reward | Prerequisite | Nation |
| --- | --- | --- | --- | --- |
Missions available from Angus MacKinnon
| Level | Mission | Reward | Prerequisite | Nation |
| --- | --- | --- | --- | --- |