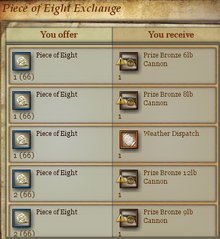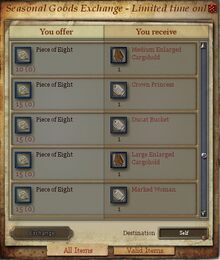 Pieces of Eight, also referred as PO8, is a type of currency found in Treasure Chests. Each chest contains two (2) to four (4) pieces of eight (among other items) which may be exchanged for both permanently offered and seasonal items at the European Trader. Treasure Chests are obtained as drops throughout the course of regular gameplay and must be unlocked with a Chest Key.
External Links
Edit
Introduction to Pieces of Eight
Seasonal Pieces of Eight Exchange
Community content is available under
CC-BY-SA
unless otherwise noted.