Oranjestad

,

Antilles

This port may not be conquered
Nation:

Dutch

Resources:
 
Minimap
History of Sint Eustatius
[
]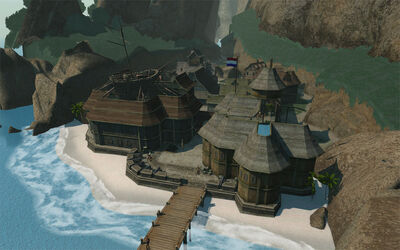 Sint Eustatius, also known as Statia, or Saint Eustace, is one of the islands which make up the Netherlands Antilles; it is in the northern, Leeward Islands portion of the West Indies, some distance southeast of the Virgin Islands. It forms part of the inner arc of the Leeward Island chain, lying immediately to the northwest of Saint Kitts and Nevis and to the southeast of Saba at 17°30′N, 62°58′W. The regional capital is Oranjestad. It is named after the legendary Catholic Saint Eustace.
The island was seen by Christopher Columbus in 1493 and claimed by an astonishing welter of nations over the next 150 years. In 1636, it was colonized by the chamber of Zeeland of the Dutch West India Company. As of 1678, the islands Sint Eustatius, Sint Maarten and Saba fell under direct command of the Dutch West India Company. At Sint Eustatius a commander was stationed, who also governed over the islands Sint Maarten and Saba. At the time, the island was of some importance for sugar cultivation. The island was also home to one of the first Jewish settlements in the New World, dating back at least to the early 18th century. The Honen Dalim Synagogue, built in 1739, now stands in ruins, burned by Admiral Rodney in 1781. That same year, part of Jewish community was forcibly deported. In the eighteenth century the island became known as the Golden Rock, since the island's economy flourished by ignoring the trade embargoes between the great powers. Source: Wikipedia article on St Eustatius
History of Oranjestad
[
]
Oranjestad is a small town of nearly 1,000 inhabitants, and is the capital of Sint Eustatius island in the Netherlands Antilles. Oranjestad is a pleasant, historical harbour town. It can be divided into two main sections, the Lower Town along the waterfront is the more historical side of the town (with colonial-era ruins, the island's best beach and the still-functioning harbour), and the Upper Town up away from the seafront is Oranjestad's main commercial and residential centre.
The main sight in Oranjestad is Fort Oranje, a well-kept 17th century fort site in the direct centre of the town, overlooking the waterfront. This cliffside fort has cannons, intact fortifications and a beautiful courtyard. Nearby is an excellent museum, a house containing collections of historical artifacts, the second oldest synagogue in the western hemisphere (abandoned), and a Jewish cemetery. The town's historical features also include an old Dutch reformed church built in 1755, which is partly ruined but still accessible (its tower can be climbed for outstanding views). The ruined buildings now submerged at the seafront can be explored by snorkelling, which is quite safe here. Source: Wikipedia article on Oranjestad
Map and Locations
[
]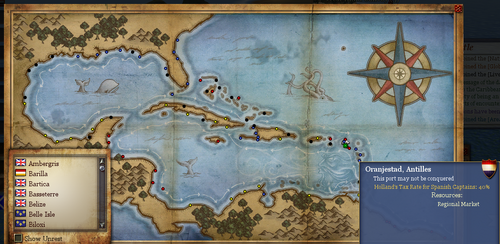 Important NPCs
[
]
Available Missions
[
]
Missions available from "Knuckles" Niedecker
| Level | Mission | Reward | Prerequisite | Nation |
| --- | --- | --- | --- | --- |
Missions available from "Stumpy Joe" Childs
| Level | Mission | Reward | Prerequisite | Nation |
| --- | --- | --- | --- | --- |
Missions available from "Stumpy" Pepys
| Level | Mission | Reward | Prerequisite | Nation |
| --- | --- | --- | --- | --- |
Missions available from Aaron Whyman
| Level | Mission | Reward | Prerequisite | Nation |
| --- | --- | --- | --- | --- |
Missions available from Abasi Demers
| Level | Mission | Reward | Prerequisite | Nation |
| --- | --- | --- | --- | --- |
Missions available from Abdul-Hakim
| Level | Mission | Reward | Prerequisite | Nation |
| --- | --- | --- | --- | --- |
Missions available from Abegail Ospital
| Level | Mission | Reward | Prerequisite | Nation |
| --- | --- | --- | --- | --- |
Missions available from Absalom Fairweather
| Level | Mission | Reward | Prerequisite | Nation |
| --- | --- | --- | --- | --- |
Missions available from Achille Flibotte
| Level | Mission | Reward | Prerequisite | Nation |
| --- | --- | --- | --- | --- |
Missions available from Adelaide Clevinger
| Level | Mission | Reward | Prerequisite | Nation |
| --- | --- | --- | --- | --- |
Missions available from Adora Fausto
| Level | Mission | Reward | Prerequisite | Nation |
| --- | --- | --- | --- | --- |
Missions available from Adriana Carrasco
| Level | Mission | Reward | Prerequisite | Nation |
| --- | --- | --- | --- | --- |
Missions available from Adrien Darcy
| Level | Mission | Reward | Prerequisite | Nation |
| --- | --- | --- | --- | --- |
Missions available from Adrien Hammersley
| Level | Mission | Reward | Prerequisite | Nation |
| --- | --- | --- | --- | --- |
Missions available from Adán Herrera
| Level | Mission | Reward | Prerequisite | Nation |
| --- | --- | --- | --- | --- |
Missions available from Alain Laframboise
| Level | Mission | Reward | Prerequisite | Nation |
| --- | --- | --- | --- | --- |
Missions available from Alan Tomkins
| Level | Mission | Reward | Prerequisite | Nation |
| --- | --- | --- | --- | --- |
Missions available from Alberto Alva
| Level | Mission | Reward | Prerequisite | Nation |
| --- | --- | --- | --- | --- |
Missions available from Alberto Cadenas
| Level | Mission | Reward | Prerequisite | Nation |
| --- | --- | --- | --- | --- |
Missions available from Alberto Lockett
| Level | Mission | Reward | Prerequisite | Nation |
| --- | --- | --- | --- | --- |
Missions available from Alberto Ortelano
| Level | Mission | Reward | Prerequisite | Nation |
| --- | --- | --- | --- | --- |
Missions available from Alexander Alekhine
| Level | Mission | Reward | Prerequisite | Nation |
| --- | --- | --- | --- | --- |
Missions available from Alf le Huguenot
| Level | Mission | Reward | Prerequisite | Nation |
| --- | --- | --- | --- | --- |
Missions available from Alfonse DeGenaro
| Level | Mission | Reward | Prerequisite | Nation |
| --- | --- | --- | --- | --- |
Missions available from Alfonso Charbonnier
| Level | Mission | Reward | Prerequisite | Nation |
| --- | --- | --- | --- | --- |
Missions available from Algernon Agnew
| Level | Mission | Reward | Prerequisite | Nation |
| --- | --- | --- | --- | --- |
Missions available from Aliah
| Level | Mission | Reward | Prerequisite | Nation |
| --- | --- | --- | --- | --- |
Missions available from Alice Jerominus
| Level | Mission | Reward | Prerequisite | Nation |
| --- | --- | --- | --- | --- |
Missions available from Alicia Laguna
| Level | Mission | Reward | Prerequisite | Nation |
| --- | --- | --- | --- | --- |
Missions available from Aloisius Stern
| Level | Mission | Reward | Prerequisite | Nation |
| --- | --- | --- | --- | --- |
Missions available from Alonsico Atienza
| Level | Mission | Reward | Prerequisite | Nation |
| --- | --- | --- | --- | --- |
Missions available from Alonsico Molleda
| Level | Mission | Reward | Prerequisite | Nation |
| --- | --- | --- | --- | --- |
Missions available from Alonsico Nieves
| Level | Mission | Reward | Prerequisite | Nation |
| --- | --- | --- | --- | --- |
Missions available from Alonsico Padilla
| Level | Mission | Reward | Prerequisite | Nation |
| --- | --- | --- | --- | --- |
Missions available from Alphonse Mercado
| Level | Mission | Reward | Prerequisite | Nation |
| --- | --- | --- | --- | --- |
Missions available from Alsonso Aguilar
| Level | Mission | Reward | Prerequisite | Nation |
| --- | --- | --- | --- | --- |
Missions available from Alvaro Cocon
| Level | Mission | Reward | Prerequisite | Nation |
| --- | --- | --- | --- | --- |
Missions available from Alvin Humphreys
| Level | Mission | Reward | Prerequisite | Nation |
| --- | --- | --- | --- | --- |
Missions available from Alvin Woods
| Level | Mission | Reward | Prerequisite | Nation |
| --- | --- | --- | --- | --- |
Missions available from Amadeus d'Amostoy
| Level | Mission | Reward | Prerequisite | Nation |
| --- | --- | --- | --- | --- |
Missions available from Amando Henriquez
| Level | Mission | Reward | Prerequisite | Nation |
| --- | --- | --- | --- | --- |
Missions available from Ambre Suzor
| Level | Mission | Reward | Prerequisite | Nation |
| --- | --- | --- | --- | --- |
Missions available from Ambrose Brassington
| Level | Mission | Reward | Prerequisite | Nation |
| --- | --- | --- | --- | --- |
Missions available from Ambrose Primley
| Level | Mission | Reward | Prerequisite | Nation |
| --- | --- | --- | --- | --- |
Missions available from Anastas Balines
| Level | Mission | Reward | Prerequisite | Nation |
| --- | --- | --- | --- | --- |
Missions available from Anatole Decoigne
| Level | Mission | Reward | Prerequisite | Nation |
| --- | --- | --- | --- | --- |
Missions available from André Faucheux
| Level | Mission | Reward | Prerequisite | Nation |
| --- | --- | --- | --- | --- |
Missions available from Andy Sordelier
| Level | Mission | Reward | Prerequisite | Nation |
| --- | --- | --- | --- | --- |
Missions available from Angelica Ryan
| Level | Mission | Reward | Prerequisite | Nation |
| --- | --- | --- | --- | --- |
Missions available from Angus MacKinnon
| Level | Mission | Reward | Prerequisite | Nation |
| --- | --- | --- | --- | --- |