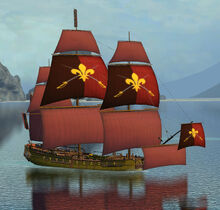 La Confrérie Libre is a major Pirate Gang whose ships patrol the Antilles from Irish Point to Bridgetown.
Their special ship is the Chariot, which drops Trophy: Bottle of Médoc (+200 reputation with Salon d'Aventure).
Ships
[
]
Typically between levels 30-50, Confrérie Libre uses the following ships:
Reputation & Bounty
[
]
The reputation earned by defeating a Confrérie Libre is divided up among the following factions:
The mission La Confrérie Bounty may be obtained from the Pirate Hunter in Pointe-à-Pitre.
Loot
[
]
Notabe items that can be looted from Confrérie Libre ships include the following:
Level 36

Gold Earrings (4)


Gold Ring (1)

Gold Skull (1)


Silver Goblet (5)
Level 37

Gold Blade (1)
Gold Necklace (4)
Gold Plaque (5)
Jade Jaguar (3)
Jade Pendant (1-3)
Jade Ring (1)

Obsidian Blade (4)
Pouch of Pearls (1)
Silver Cross (3)
Silver Goblet (4)
Silver Madonna (1)
Level 38

Gold Eagle (4)
Gold Necklace (4)
Gold Pendant (4-8)
Gold Plaque (4)
Jade Jaguar (1)

Obsidian Blade (4-8)
Pouch of Pearls (1)
Silver Ring (3)
Silver Skull (3)
Level 39
Gold Necklace (3)


Gold Plaque (4)

Jade Jaguar (4)


Obsidian Blade (7)
Level 42

Silver Blade (6)


Silver Cross (3-8)


Jade Skull (1)
Level 44

Gold Blade (1-2)
Gold Jaguar (5)
Gold Mask (3-4)
Gold Necklace (5)
Gold Ring (2)
Gold Pendant (3-5)
Jade Pendant (4)

Pouch of Pearls (2-4)
Pouch of Rubies (1)
Pearl Pendant (1)
Silver Blade (4-6)
Silver Goblet (5)
Silver Madonna (4)
Silver Cross (4)
Level 45

Gold Plaque (3)


Gold Eagle (6)


Silver Madonna (3-4)


Pouch of Emeralds (1)
Level 46
Gold Necklace (4)


Jade Skull (4)


Pearl Pendant (1)
Level 48

Gold Warrior (4)

Jade Jaguar (5)

Ruby Pendant (1)
Level 50

Gold Cross (3)
Gold Goblet (1)
Gold Ring (4)
Gold Skull (4)
Gold Warrior (4)

Jade Jaguar (3-6)
Pouch of Sapphires (2)
Pouch of Emeralds (3)