Jurassic World: Dominion Dominates Fandom Wikis - The Loop
Play Sound
Barilla

,

New Spain

This port may not be conquered
Nation:

Spain

Resources:
 
Minimap
History
[
]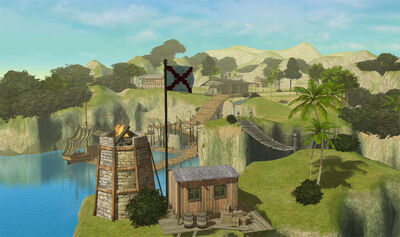 Isla Barilla is a small island that is prominent feature of the colony of Espíritu Santo. In 1522, Hernán Cortés ordered Gonzalo de Sandoval, a trusted lieutenant, to found a settlement near the important Nahua Aztec city of Guazacualco. Sandoval named it Villa del Espíritu Santo. It was elevated to the category of port in 1825 and the name changed to Coatzacoalcos which was the Nahuatl name of the area before the Spanish conquest. Coatzacoalcos is in the state of Veracruz-Llave.
Map and Locations
[
]
Barilla is most noted for the two important NPCs for the Map of Destiny: Chapter One mission chain, Rafael Alvarez and Victor Calante. You can also gain a Magistrate's Commendation for Excellence here for doing missions for the Magistrate, Plácido Grand.
Important NPCs
[
]
Available Missions
[
]
Missions available from "Knuckles" Niedecker
| Level | Mission | Reward | Prerequisite | Nation |
| --- | --- | --- | --- | --- |
Missions available from "Stumpy Joe" Childs
| Level | Mission | Reward | Prerequisite | Nation |
| --- | --- | --- | --- | --- |
Missions available from "Stumpy" Pepys
| Level | Mission | Reward | Prerequisite | Nation |
| --- | --- | --- | --- | --- |
Missions available from Aaron Whyman
| Level | Mission | Reward | Prerequisite | Nation |
| --- | --- | --- | --- | --- |
Missions available from Abasi Demers
| Level | Mission | Reward | Prerequisite | Nation |
| --- | --- | --- | --- | --- |
Missions available from Abdul-Hakim
| Level | Mission | Reward | Prerequisite | Nation |
| --- | --- | --- | --- | --- |
Missions available from Abegail Ospital
| Level | Mission | Reward | Prerequisite | Nation |
| --- | --- | --- | --- | --- |
Missions available from Absalom Fairweather
| Level | Mission | Reward | Prerequisite | Nation |
| --- | --- | --- | --- | --- |
Missions available from Achille Flibotte
| Level | Mission | Reward | Prerequisite | Nation |
| --- | --- | --- | --- | --- |
Missions available from Adelaide Clevinger
| Level | Mission | Reward | Prerequisite | Nation |
| --- | --- | --- | --- | --- |
Missions available from Adora Fausto
| Level | Mission | Reward | Prerequisite | Nation |
| --- | --- | --- | --- | --- |
Missions available from Adriana Carrasco
| Level | Mission | Reward | Prerequisite | Nation |
| --- | --- | --- | --- | --- |
Missions available from Adrien Darcy
| Level | Mission | Reward | Prerequisite | Nation |
| --- | --- | --- | --- | --- |
Missions available from Adrien Hammersley
| Level | Mission | Reward | Prerequisite | Nation |
| --- | --- | --- | --- | --- |
Missions available from Adán Herrera
| Level | Mission | Reward | Prerequisite | Nation |
| --- | --- | --- | --- | --- |
Missions available from Alain Laframboise
| Level | Mission | Reward | Prerequisite | Nation |
| --- | --- | --- | --- | --- |
Missions available from Alan Tomkins
| Level | Mission | Reward | Prerequisite | Nation |
| --- | --- | --- | --- | --- |
Missions available from Alberto Alva
| Level | Mission | Reward | Prerequisite | Nation |
| --- | --- | --- | --- | --- |
Missions available from Alberto Cadenas
| Level | Mission | Reward | Prerequisite | Nation |
| --- | --- | --- | --- | --- |
Missions available from Alberto Lockett
| Level | Mission | Reward | Prerequisite | Nation |
| --- | --- | --- | --- | --- |
Missions available from Alberto Ortelano
| Level | Mission | Reward | Prerequisite | Nation |
| --- | --- | --- | --- | --- |
Missions available from Alexander Alekhine
| Level | Mission | Reward | Prerequisite | Nation |
| --- | --- | --- | --- | --- |
Missions available from Alf le Huguenot
| Level | Mission | Reward | Prerequisite | Nation |
| --- | --- | --- | --- | --- |
Missions available from Alfonse DeGenaro
| Level | Mission | Reward | Prerequisite | Nation |
| --- | --- | --- | --- | --- |
Missions available from Alfonso Charbonnier
| Level | Mission | Reward | Prerequisite | Nation |
| --- | --- | --- | --- | --- |
Missions available from Algernon Agnew
| Level | Mission | Reward | Prerequisite | Nation |
| --- | --- | --- | --- | --- |
Missions available from Aliah
| Level | Mission | Reward | Prerequisite | Nation |
| --- | --- | --- | --- | --- |
Missions available from Alice Jerominus
| Level | Mission | Reward | Prerequisite | Nation |
| --- | --- | --- | --- | --- |
Missions available from Alicia Laguna
| Level | Mission | Reward | Prerequisite | Nation |
| --- | --- | --- | --- | --- |
Missions available from Aloisius Stern
| Level | Mission | Reward | Prerequisite | Nation |
| --- | --- | --- | --- | --- |
Missions available from Alonsico Atienza
| Level | Mission | Reward | Prerequisite | Nation |
| --- | --- | --- | --- | --- |
Missions available from Alonsico Molleda
| Level | Mission | Reward | Prerequisite | Nation |
| --- | --- | --- | --- | --- |
Missions available from Alonsico Nieves
| Level | Mission | Reward | Prerequisite | Nation |
| --- | --- | --- | --- | --- |
Missions available from Alonsico Padilla
| Level | Mission | Reward | Prerequisite | Nation |
| --- | --- | --- | --- | --- |
Missions available from Alphonse Mercado
| Level | Mission | Reward | Prerequisite | Nation |
| --- | --- | --- | --- | --- |
Missions available from Alsonso Aguilar
| Level | Mission | Reward | Prerequisite | Nation |
| --- | --- | --- | --- | --- |
Missions available from Alvaro Cocon
| Level | Mission | Reward | Prerequisite | Nation |
| --- | --- | --- | --- | --- |
Missions available from Alvin Humphreys
| Level | Mission | Reward | Prerequisite | Nation |
| --- | --- | --- | --- | --- |
Missions available from Alvin Woods
| Level | Mission | Reward | Prerequisite | Nation |
| --- | --- | --- | --- | --- |
Missions available from Amadeus d'Amostoy
| Level | Mission | Reward | Prerequisite | Nation |
| --- | --- | --- | --- | --- |
Missions available from Amando Henriquez
| Level | Mission | Reward | Prerequisite | Nation |
| --- | --- | --- | --- | --- |
Missions available from Ambre Suzor
| Level | Mission | Reward | Prerequisite | Nation |
| --- | --- | --- | --- | --- |
Missions available from Ambrose Brassington
| Level | Mission | Reward | Prerequisite | Nation |
| --- | --- | --- | --- | --- |
Missions available from Ambrose Primley
| Level | Mission | Reward | Prerequisite | Nation |
| --- | --- | --- | --- | --- |
Missions available from Anastas Balines
| Level | Mission | Reward | Prerequisite | Nation |
| --- | --- | --- | --- | --- |
Missions available from Anatole Decoigne
| Level | Mission | Reward | Prerequisite | Nation |
| --- | --- | --- | --- | --- |
Missions available from André Faucheux
| Level | Mission | Reward | Prerequisite | Nation |
| --- | --- | --- | --- | --- |
Missions available from Andy Sordelier
| Level | Mission | Reward | Prerequisite | Nation |
| --- | --- | --- | --- | --- |
Missions available from Angelica Ryan
| Level | Mission | Reward | Prerequisite | Nation |
| --- | --- | --- | --- | --- |
Missions available from Angus MacKinnon
| Level | Mission | Reward | Prerequisite | Nation |
| --- | --- | --- | --- | --- |